Welcome to Sunnydale Garden Centre
Sunnydale Garden Centre opened in May 2001, taking over the site from a local company which had operated there since 1995.

Since taking over, we have made large scale investments into the business, developing the existing site as well as expanding the already extensive plant area. We now offer one of the widest selection of shrubs, climbers and herbaceous plants in Wales. New and unusual plants are a speciality of our well presented plant area.
Plant of the Week: Roses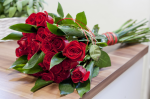 'A rose by any other name would smell as sweet', said the Bard, and whatever name they go by roses undeniably take the prize for the most delicious scent in the garden. Perfume adds yet another dimension to a flower already blessed with perfect petals in a kaleidoscope of romantic colours.
Since it's prime rose-planting time right now you've got the perfect excuse to add to your collection. From palest pink climber 'Madame Alfred Carriere' to swoon-inducing Bourbon rose 'Madame Isaac Pereire', there are dozens of roses which major on scent – so fill your garden with sweet, spicy perfume this summer!
Keep mahonias looking gorgeous
Mahonias are great for year-round interest: they make fabulous winter-flowering evergreen shrubs, and have gorgeous warm autumn colours to boot. But left to their own devices they grow big and leggy, so about now cut back the largest, woodiest stems to encourage lots of fresh new growth and keep the plant young and healthy.